Introducing our practice team
Everyone at our practice is committed to providing you with the very best in pet healthcare. Our veterinary team bring a wealth of experience to the practice and have individually obtained high standards of professional qualification.
Gillian Tose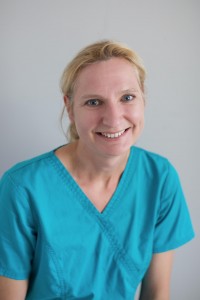 Vet
BvetMed MRCVS
Gill qualified from the Royal Veterinary College BVetMed MRCVS in 1997, she worked in general practice and did some emergency work before opening Windlesham Village Vets in 2008 with Peter.
Gill enjoys internal medicine and soft tissue surgery and she has an interest in treating rabbits. She uses her skills to help in rescue centres abroad during her holidays and supports the local wildlife rescue charity.
In her spare time she likes to ride her horses, run and garden.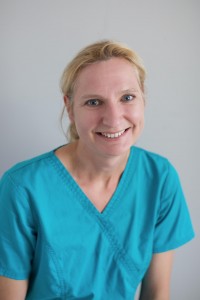 Peter Castle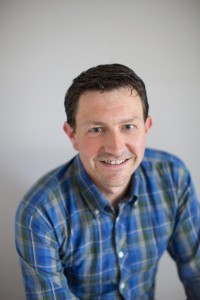 Vet
BVetMed MRCVS
Peter qualified from the Royal Veterinary College BvetMed MRCVS in 1997. After qualifying Peter worked in various practices around the UK before working as an emergency vet for 3 years, then opening Windlesham Village Vets with Gill in 2008.
In his spare time he likes to walk his dogs and ride his motorbike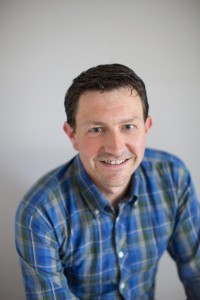 Bea Newman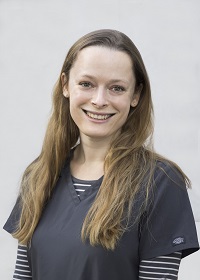 Vet
BA Cantab (Hons) VetMB MRCVS
Bea graduated from Cambridge University in 2017 as a member of the Royal College of Veterinary Surgeons, and with a first-class undergraduate degree in the History and Philosophy of Science.
Bea loves all animals but her passion in life is dogs. She currently has a 2 year old Pyrenean Sheepdog called Tabi. They enjoy training and competing together in a range of activities including agility, hoopers, scent work, and sheep herding. Bea also competes in agility with her Mum's 4 year old Beauceron, Cass.
Bea's veterinary interests are varied – she enjoys internal medicine, ultrasonography and has a growing interest in behavioural medicine, fear-free veterinary medicine, and cooperative care, and care of sports dogs.
When Bea isn't at work or training her dogs (this isn't very often!) she also enjoys reading, hiking, and spending time with family and friends.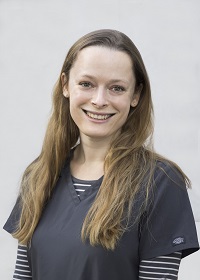 Lizzie Budgett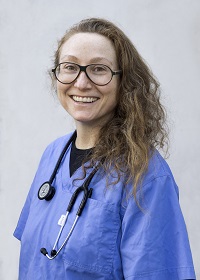 Vet
BVSc MRCVS
Lizzie grew up in Mauritius with lots of animals around her. She always wanted to be a vet so came to the UK to train and then graduated from Bristol University in 2003.
Once qualified, she started a career with horses in Belgium. When back in the UK, she began locuming for charities and private practices before settling in London for many years. Lizzie took a career break to raise her two girls and now is glad to be back in a nice supportive team.
In her spare time, she enjoys walking, gardening, being with wildlife and crafting.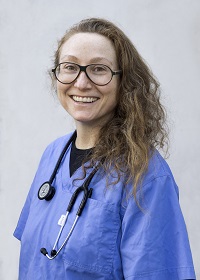 Aimee Knight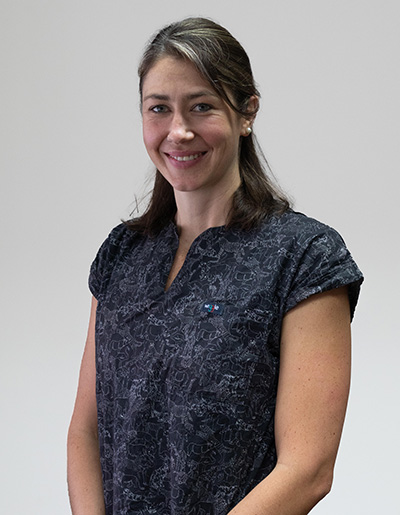 Vet
BVSc MRCVS
I graduated as a vet in 2014 in dusty Safari Riddled South Africa and decided to make the Trek to the UK as most Saffas are in the habit of doing. I am very happy to have settled down at Windlesham and find the atmosphere energetic, fun and friendly.
I carry great passion for animals, and couldn't imagine a day of work without them. You may glimpse me being dragged by my Silly Staffie through the forests in the area- don't worry- it's a controlled drag, I promise!
In my spare time I enjoy the outdoors, running, swimming and cycling. I also enjoy wine.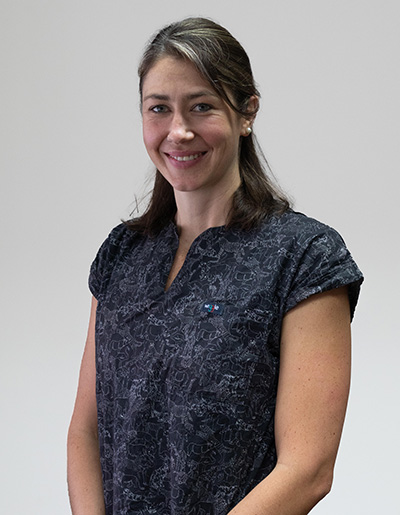 Liz Webb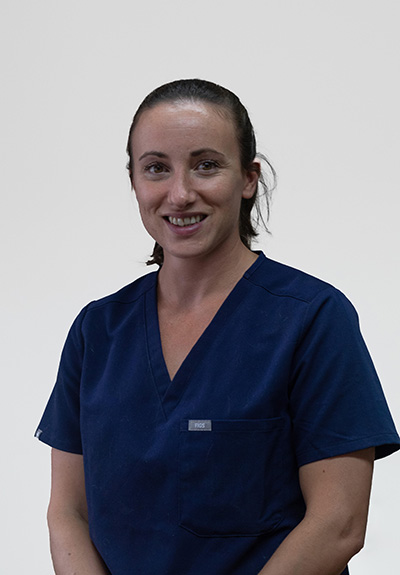 Vet
BVSc MRCVS
Liz graduated from Bristol University in 2012 and has worked as a small animal vet ever since. She particularly enjoys soft tissue surgery but also loves the variety that comes with being a general practice vet.
In her spare time Liz enjoys long runs with her mischievous x-breed dog Cookie and outdoor adventures with her 2 young boys.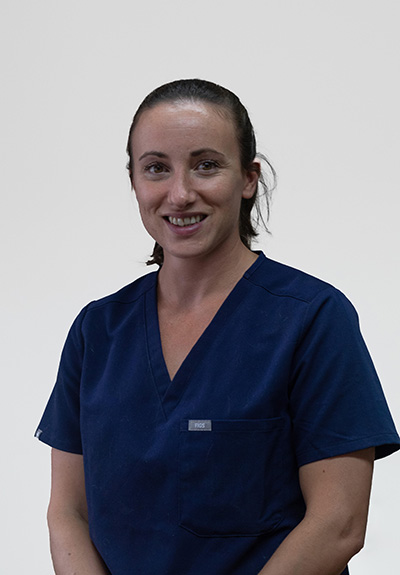 Izzy Taylor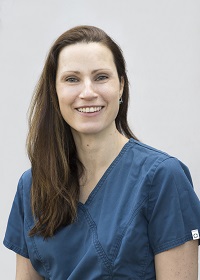 Practice Manager
Since I was a little girl growing up in South Africa, my lifelong dream was to be able to help animals. Initially starting off as a veterinary nurse and then taking time out to have my two children, I returned to a new role as the Practice Manager.
Having been in the veterinary profession for almost 20 years, I can positively say that Windlesham Village Vets is one of the very few unique practices that care for pets and their owners as though they were their own. I feel very proud to be part of our amazing team and welcome any suggestions or feedback that would help you and your pets.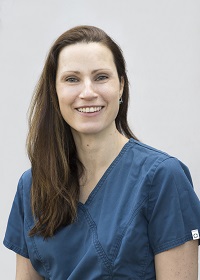 Georgie Rogers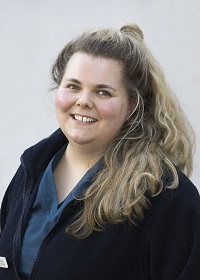 Head Veterinary Nurse
Bsc (Hons) RVN
Georgie qualified from the RVC in 2015 with a BSc in Veterinary Nursing. She went on to work in an orthopaedic referral practice before joining us in 2017.
In her spare time Georgie likes to walk her black labrador, Weasel, who most have probably seen around the practice. She has also recently gained a diploma in professional interior design. She also likes to spend time with her two horses.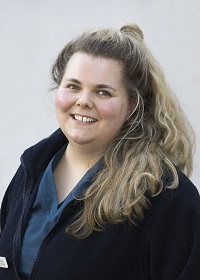 Sarah Uiterwijk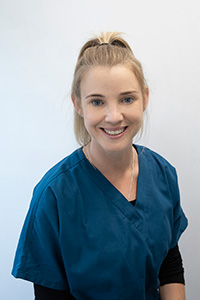 Veterinary Nurse
RVN
Sarah is a veterinary nurse who qualified in Australia in 2010. She worked at a small animal practice in Melbourne for the first 5 years of her career before moving to the UK in 2014 to work and travel, In the UK she worked in various veterinary hospitals and small animal practice all over London. After a brief stint back in Melbourne she is back and started working with us in November 2018. She also just recently completed her OSCEs to become a registered UK veterinary nurse with the RCVS.
In her spare time Sarah likes to go to the gym and socilaise with friends. She has a love of staffies and hopes to get her own very soon!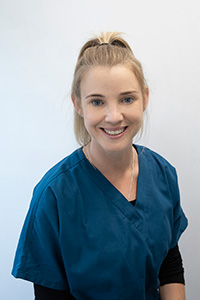 Jade Cullen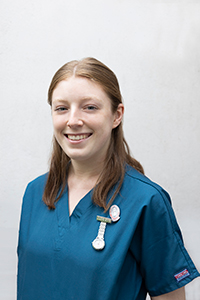 Veterinary Nurse
RVN
I qualified March 2021 with a diploma in veterinary nursing. I enjoy all areas of nursing and love how each day is different but particularly enjoy caring for hospitalised animals and trying to make them as comfortable and happy during their stay.
In my spare time I enjoy running, baking and spending time with my two dogs Kiera and Remi.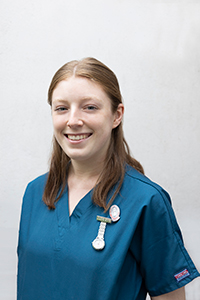 Hilly Smith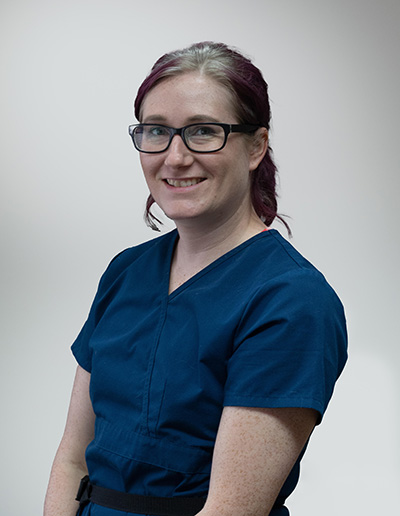 Veterinary Nurse
I started out working in an equine veterinary practice for 4 years before making the move to small animal practice in 2017. I qualified at the beginning of 2021 and made the move to Windlesham vets in September. I love many parts of my job, but seeing an animal go home happy and feeling better is the best bit.
Outside of work I like to keep busy playing golf, skiing, crocheting, baking and looking after my elderly cat Tango.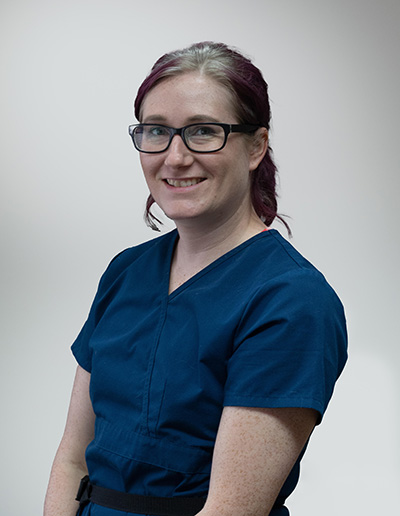 Nici Griffiths
Veterinary Nurse
RVN
I qualified as a veterinary nurse in 2002 after spending 10 years in a veterinary practice. I completed a radiography degree and worked for the NHS for the past 12 years. I have now come back into veterinary nursing and love working back with animals. I enjoy making sure we give all our patients great care whilst with us. Life out of work is busy with 2 kids, a golden retriever, a horse and a cat.
Marie Halliday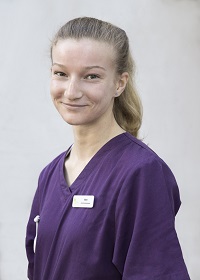 Student Veterinary Nurse
After completing her Extended Diploma in Animal Management in 2019, Marie joined Windlesham Vets, to develop and gain new skills within the veterinary environment. She plans on training here to become a qualified veterinary nurse in the near future.
In her spare time Marie enjoys doing middle-distance and cross country running with her friends, as well as spend time with her two terriers.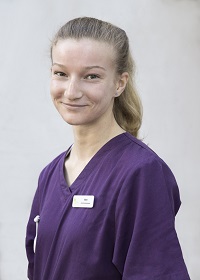 Alex Nugent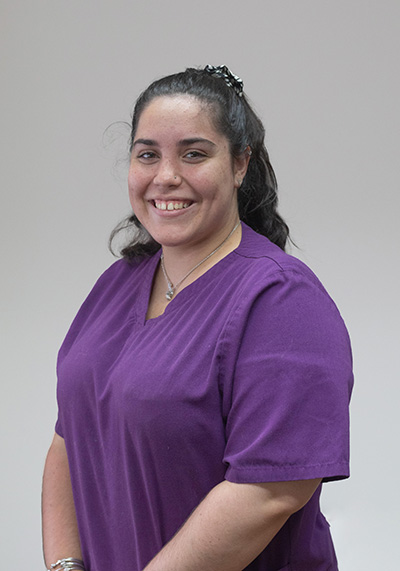 Animal Nursing Assistant
Having recently completed my degree in BSc Animal Behaviour and Welfare I wanted to gain experience within the veterinary environment. This will allow me to develop new skills with hopes of becoming a veterinary nurse in the future.
In my spare time I like to go on walks round the Surrey countryside with my family.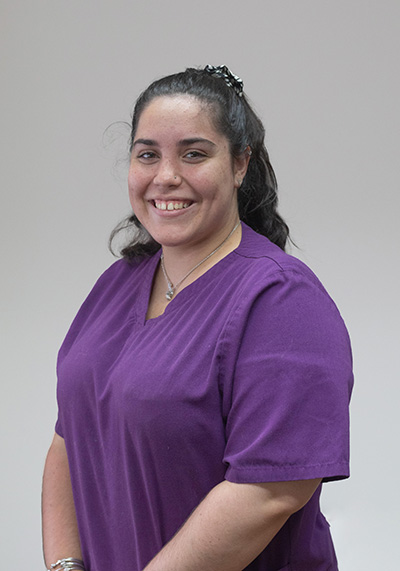 Beth Lloyd-Jones
Animal Nursing Assistant
After starting my career in veterinary being a receptionist I decided I wanted to develop my skills and gain new ones within the veterinary environment.
I hope these new skills will help me with my hopes of training here to be a registered veterinary nurse in the near future.
In my spare time I take my rescue dog for long walks and helping out and volunteering at the rescue I got him from. I also enjoy rock climbing when I get the time.
Shauna Lopez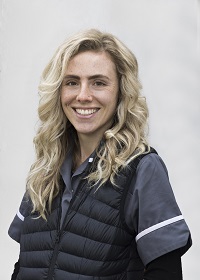 Head of Customer Care Team
Shauna has worked in a couple of practices and offices providing administration and marketing help but office work had a lack of animals everyday! She also does dog walking around working here.
In her spare time she enjoys spending time with all her animals, hiking, and riding her horse.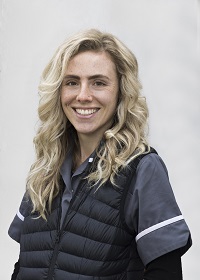 Rhiannon Legg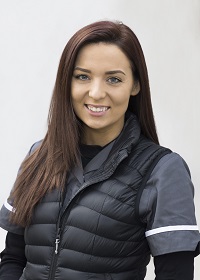 Customer Care Team
Rhiannon joined our team in November 2020 and loves the family feel of an independent practice. Prior to joining us she worked, for 10 years, in various reptile shops. In 2016 she completed an advanced course in venomous snake handling and went on to keep a selection of cobras and rattlesnakes for a few years. She still keeps a small collection of nonvenomous species.
In her spare time, she enjoys walking her two mastiffs, Keela and Moose as well as kayaking on warmer days.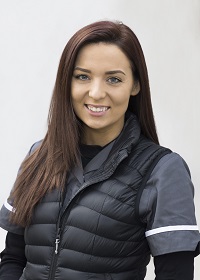 Corrie Woolgar
Customer Care Team
Before joining the practice I worked at The national archives in Kew, prior to that I worked in various front of house roles in media and advertising agencies.
I wanted to get back into a client facing role, so with my love of animals what better role than at a vets! I have a passion for photography and always have my camera with me. I also love interior design. I enjoy going for long walks with my husband, our two sons and our Crazy dog Bert.